Air fryer garlic bread is crunchy, buttery and so delicious! All you need is a loaf of your favorite bread to get started with this easy side dish!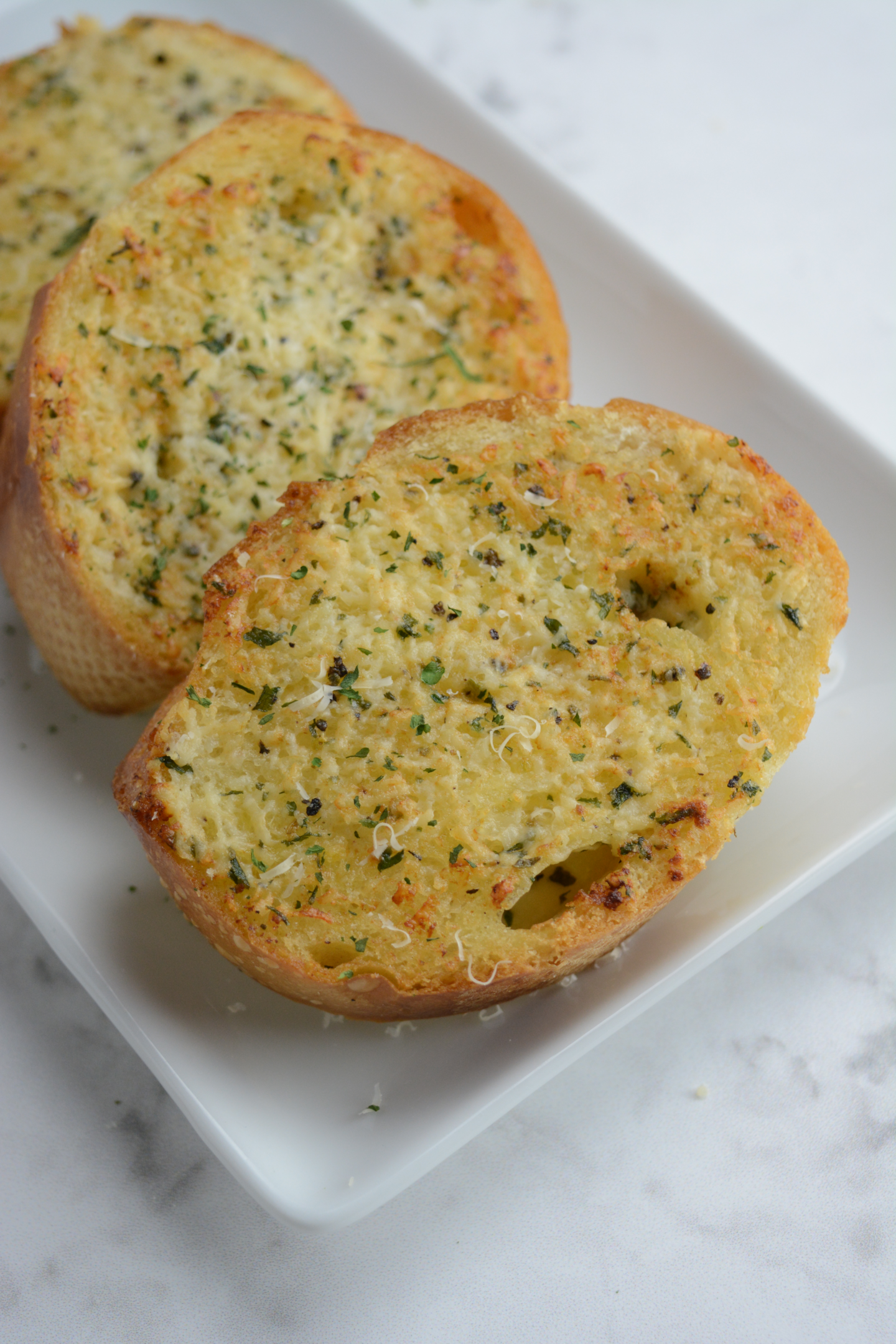 There's nothing like the taste and smell of fresh garlic bread. Air frying garlic bread is such a time saver. Not only is it simple, but it also frees up the oven for your main entree. The edges turn golden brown while each bite remains soft and pillowy. This recipe uses a remade loaf of bread for the ultimate easy dish but feel free to use a homemade loaf if that's what you have on hand.
This is the best air fryer garlic bread because it's fast and full of flavor. The fluffy garlic butter makes this savory dish the perfect side. This delicious homemade garlic bread is a great appetizer that you can enjoy alone and dipped into your favorite marinara sauce!
Try it with my Air Fryer Parmesan Chicken or this extra cheesy air fryer lasagna bake!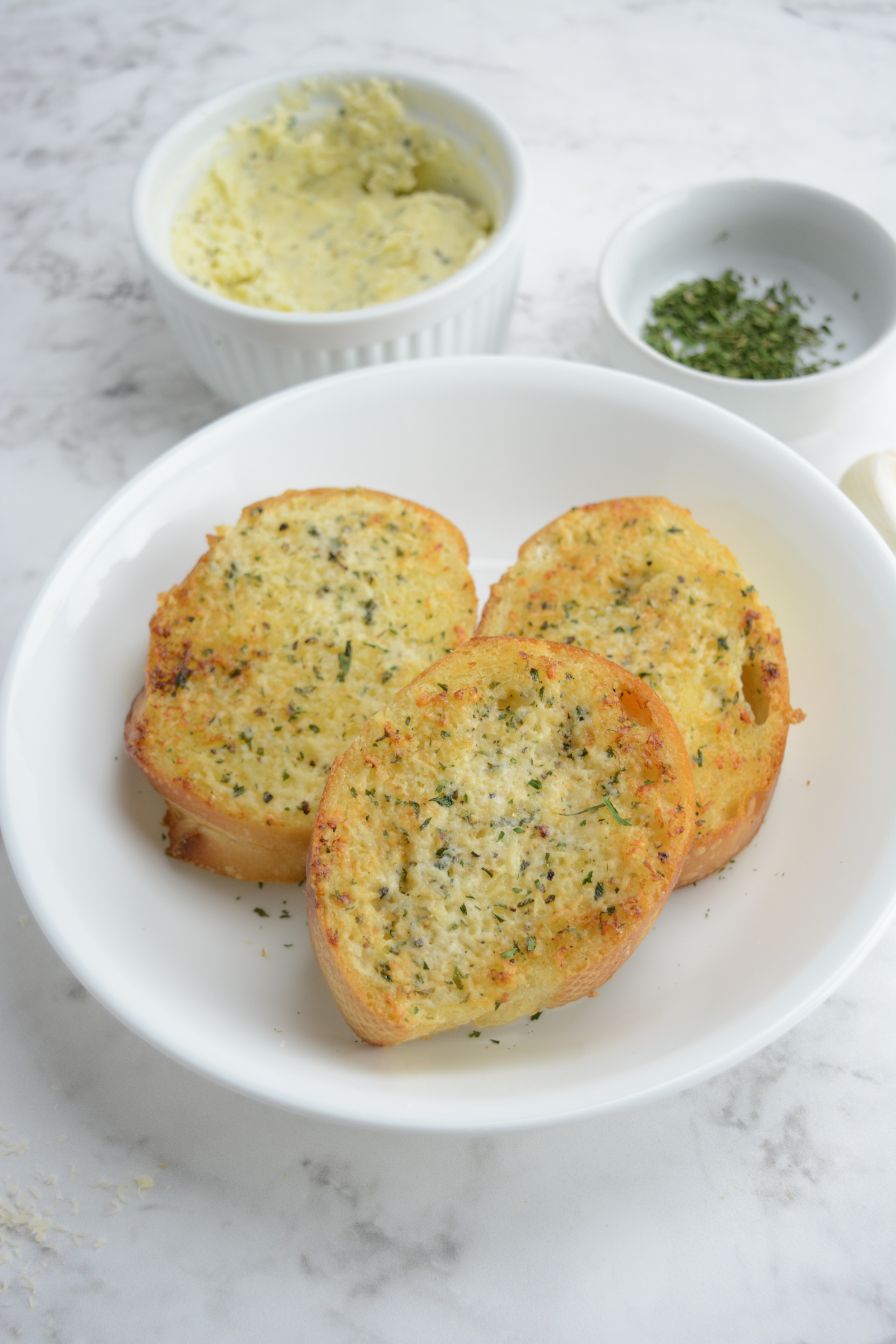 Why you'll love it
Simple- This air fryer garlic bread recipe requires a handful of ingredients, many of which might already be in the pantry!
Prep ahead- The butter spread in this recipe can be made ahead of time. At dinner time, minutes can make a huge difference. Even if the ingredients take you 5-10 minutes to assemble, that's time better spent preparing another part of the meal or simply relaxing after a long day. Mix up the herb butter the night before to make this side dish a breeze.
Versatile- Follow the recipe, or switch things up! If you are a person who absolutely loves garlic, feel free to add more! Want to use individual herbs instead of a blend? go for it! Love cheese?Add your favorites for a golden brown gooey cheese bread. The options are endless and you can enjoy it exactly as you like.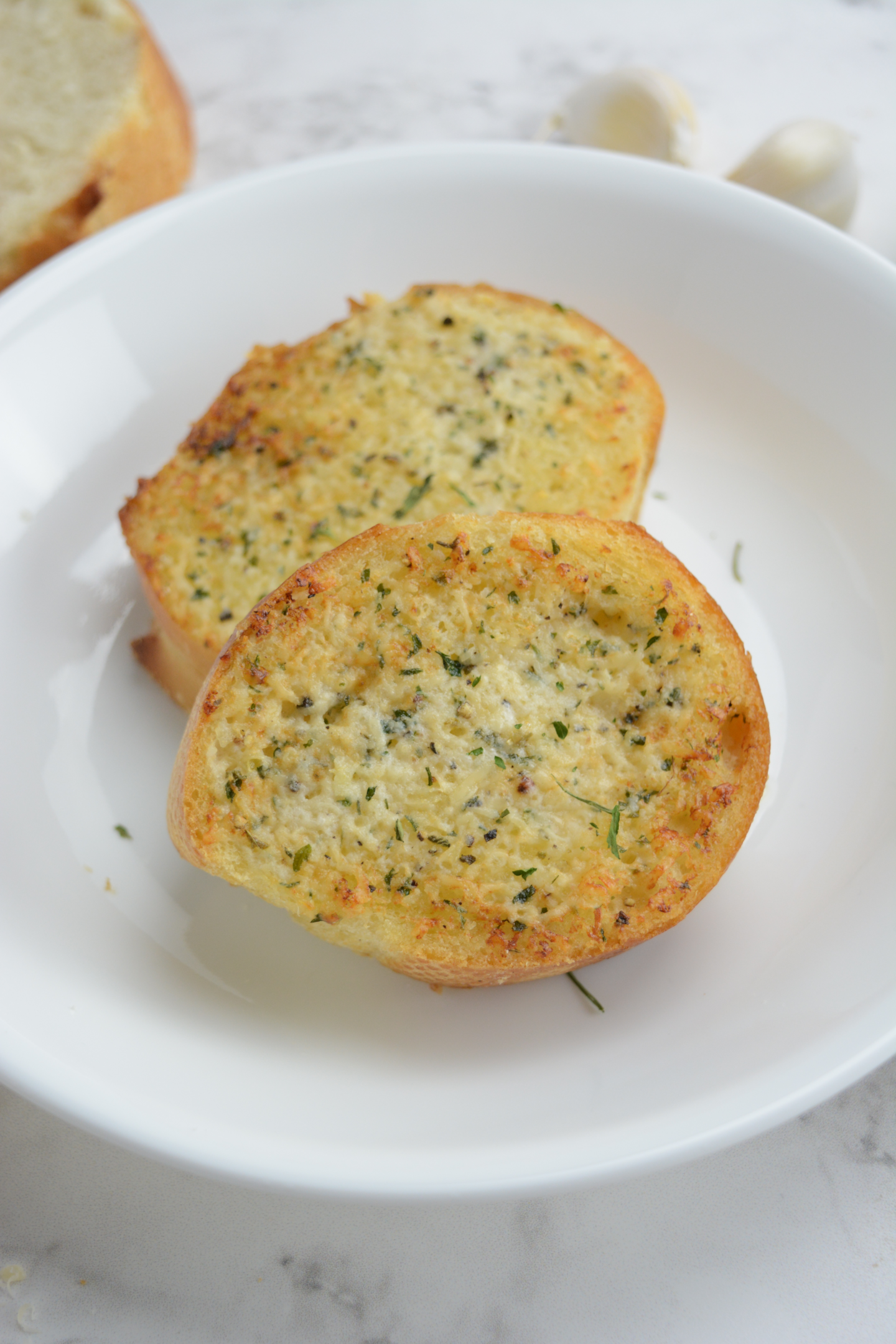 Ingredients
Premade bread- Are you a baguette person or do you prefer Texas toast? Both will work for this recipe. Think ahead about what you'd like your presentation to look like. If you want garlic bread slices, triangles, or if you'd like to cut it into strips. For this recipe I used a loaf of fresh bread. I used French bread loaf but, ciabatta bread, Italian bread all work great for this delicious garlic bread!
Salted butter- Salted butter is the base for the herb mixture. You'll want to use softened butter for even spreading, not melted. Let it sit on the counter for 30-60 minutes to soften. To speed up the process, cut the butter into slices.
Herbs- You can use Italian seasoning blend here or keep things simple. I used parsley and oregano but feel free to get creative. If you like a bit of spice, add a sprinkle of crushed red pepper flakes.
Garlic- Garlic gives your side dish that classic taste.. This recipe uses mashed or finely minced garlic but if you only have garlic powder on hand, you can still enjoy the taste. Just swap it for X-amount garlic powder or add to taste! One of my favorite kitchen hacks is keeping a tube of garlic paste in the fridge. A couple members of my family have a garlic sensitivity so I don't cook with it often but I like to keep it on hand for myself once in a while and the refrigerated paste is an easy way to keep it fresh.
Parmesan cheese- I used fresh grated parmesan cheese for this recipe because it has the best flavor. It's mild but adds just a bit of flavor that takes this bread to the next level. You can definitely use pre-shredded as well if you prefer.
Parsley- I used dried parsley for a pop of color and flavor as a garnish. You can also use finely chopped fresh parsley.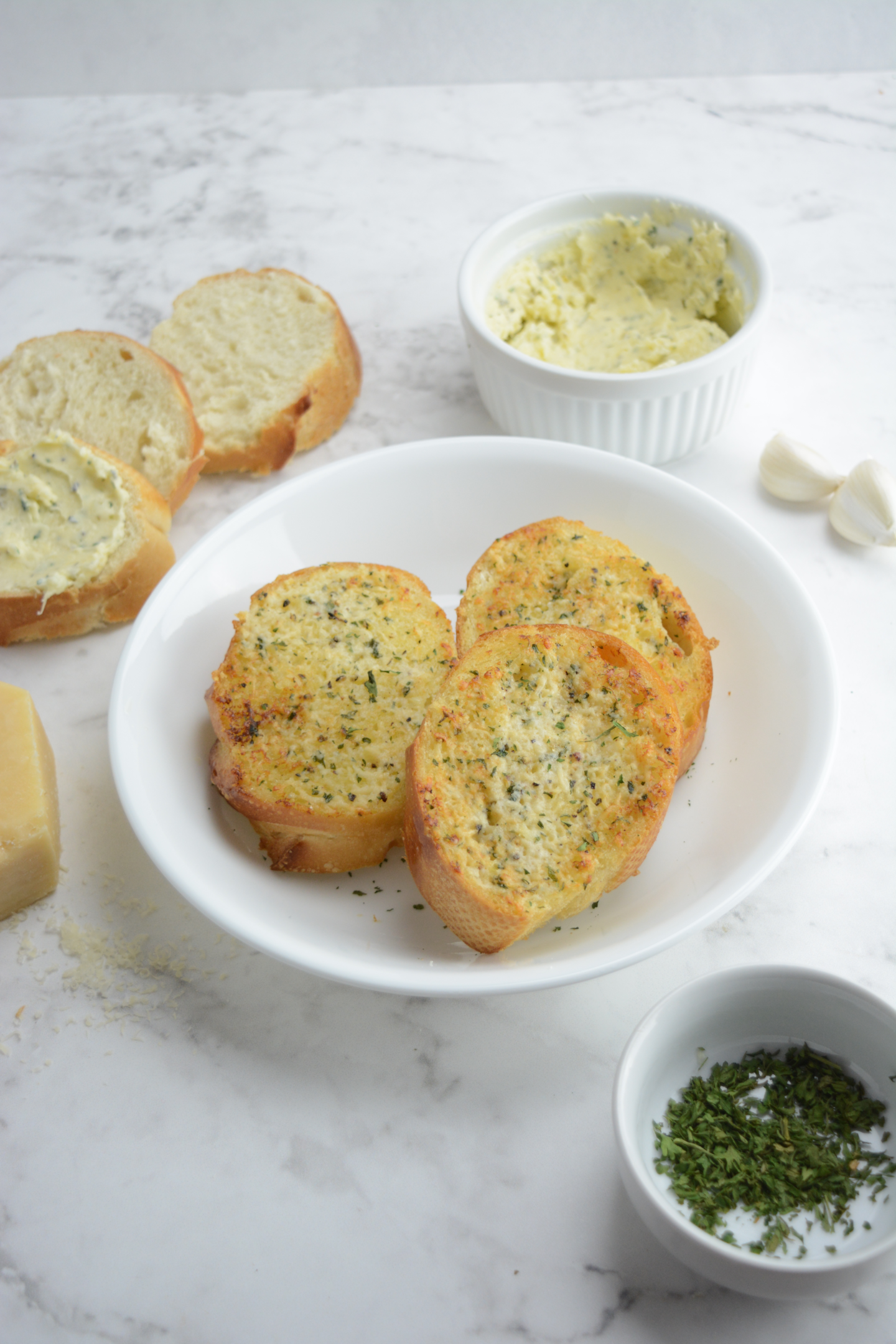 How to Make Air Fryer Garlic Bread
To make garlic bread in the air fryer, first start by collecting all your ingredients. While you don't have to, I do like to preheat the air fryer for even cooking. Preheating the air fryer just takes a few minutes.
Some models have a preheat function on them while others do not so refer to your product's manual if you aren't sure.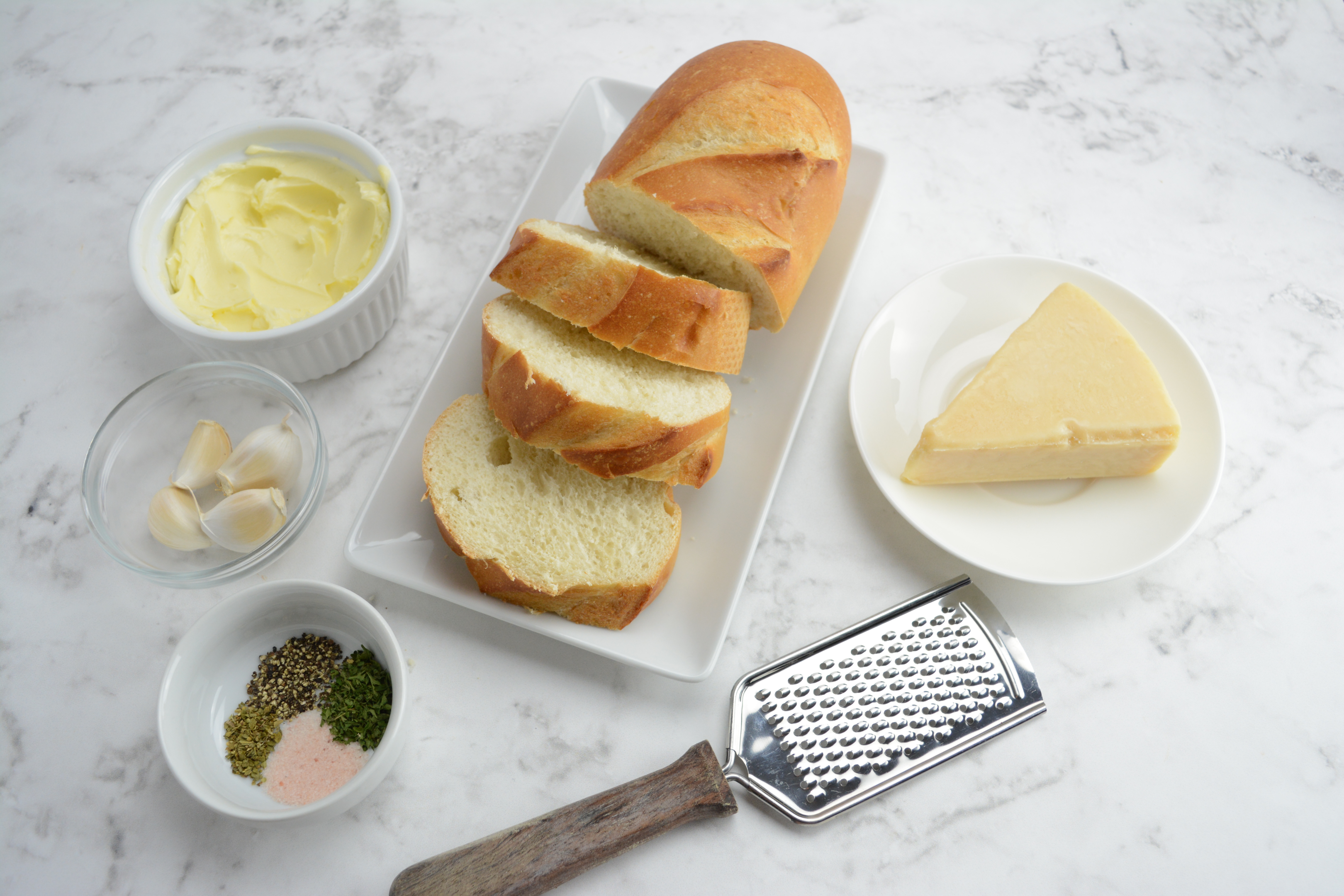 Step 1: Slice the bread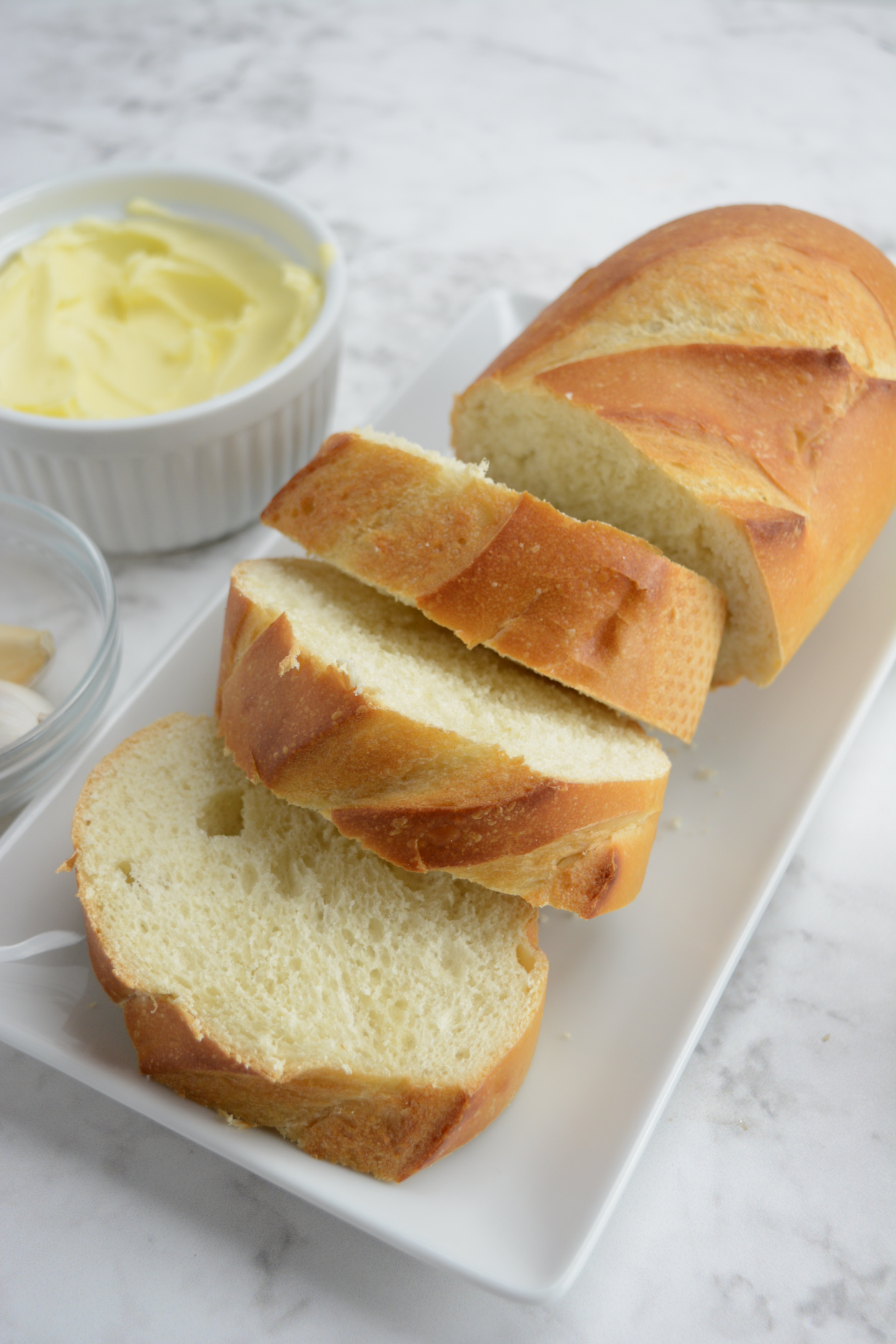 Depending on the bread you're using, you have some choices for slicing. You can slice it into rounds, which I recommend because they fit really well in the air fryer.
You can also slice the entire loaf lengthwise and make two long garlic bread pieces. Mine are about 1 1/2-inches thick. If you like extra crunchy garlic bread slices, cut then a bit thinner.
Step 2: Grate the parmesan cheese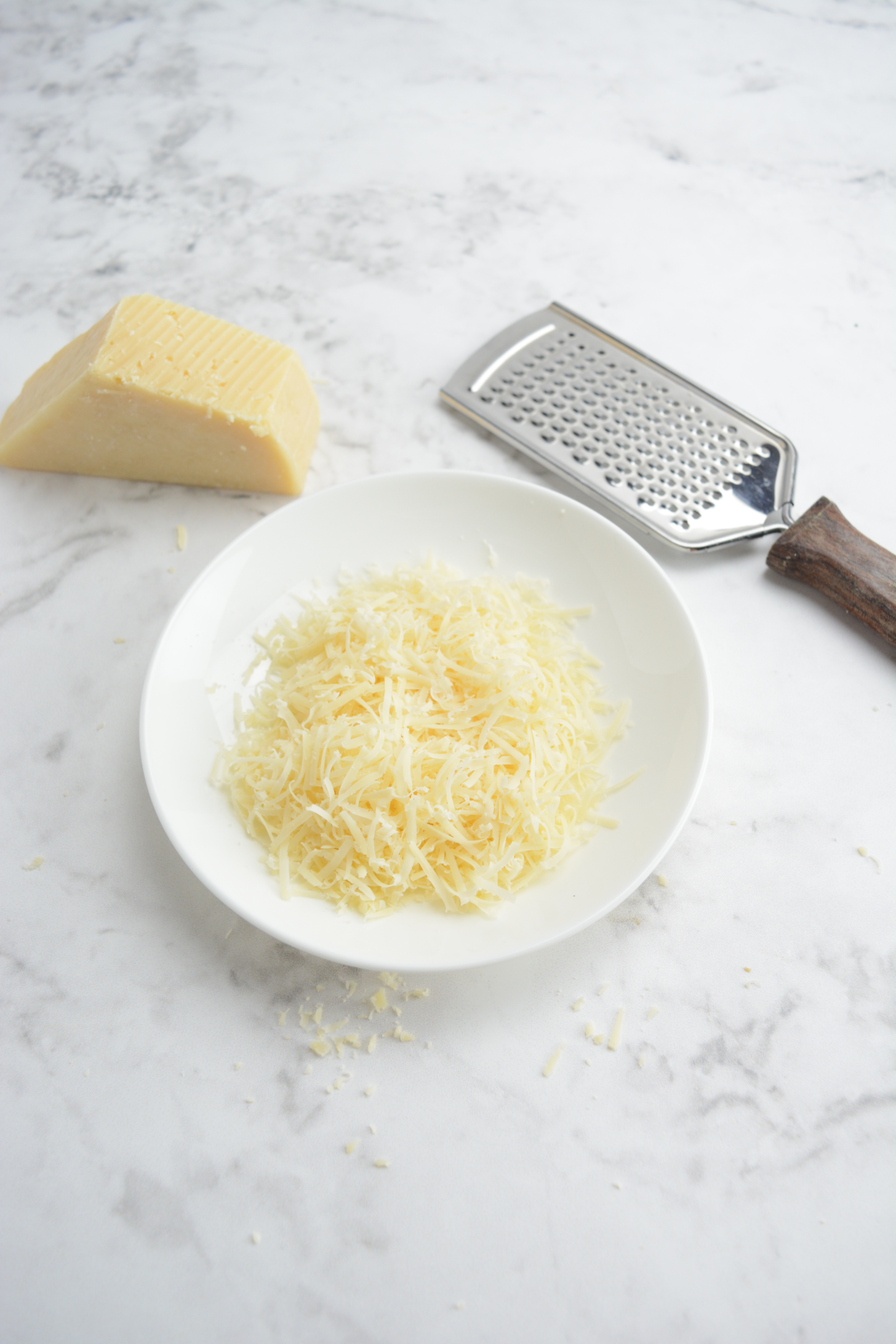 Use a fine grater to grate the parmesan cheese. You can definitely use pre shredded cheese here but I don't really like the flavor. These little blocks are just a few dollars, which is about the same price as a bag where I live.
Step 3: Make the butter mixture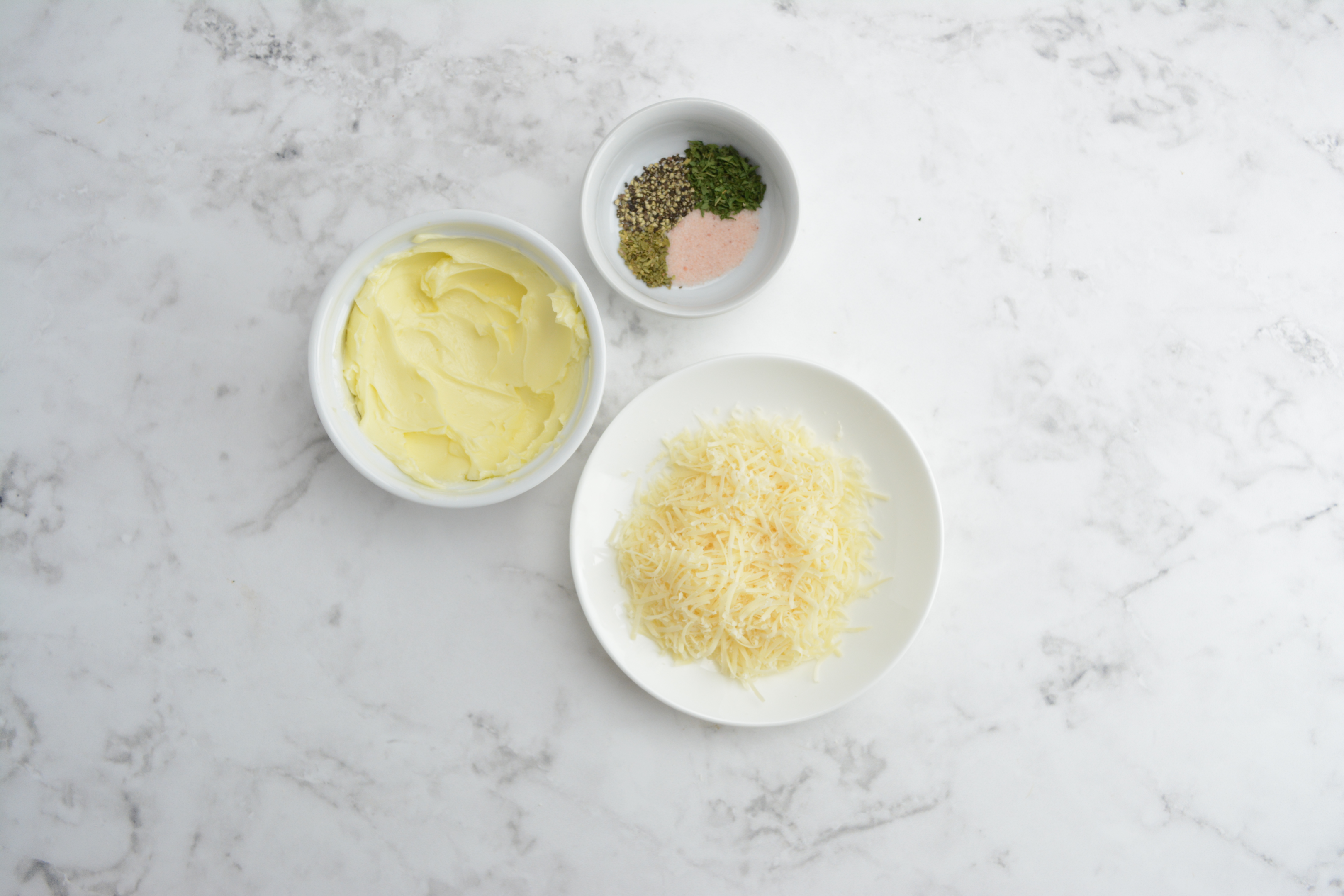 Step 4: Finely grate or mash the garlic and mix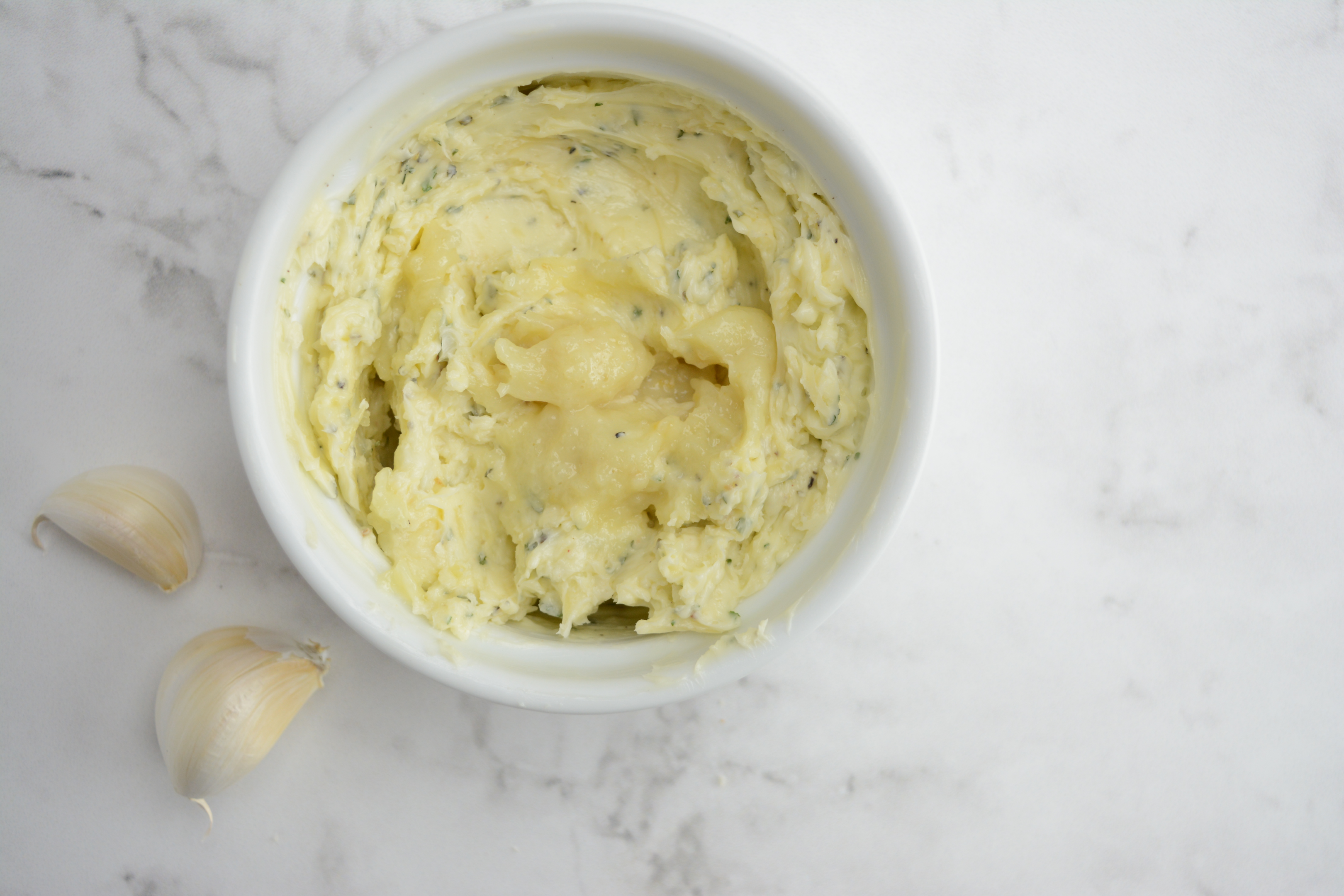 Step 5: Spread the garlic butter mixture on top of the bread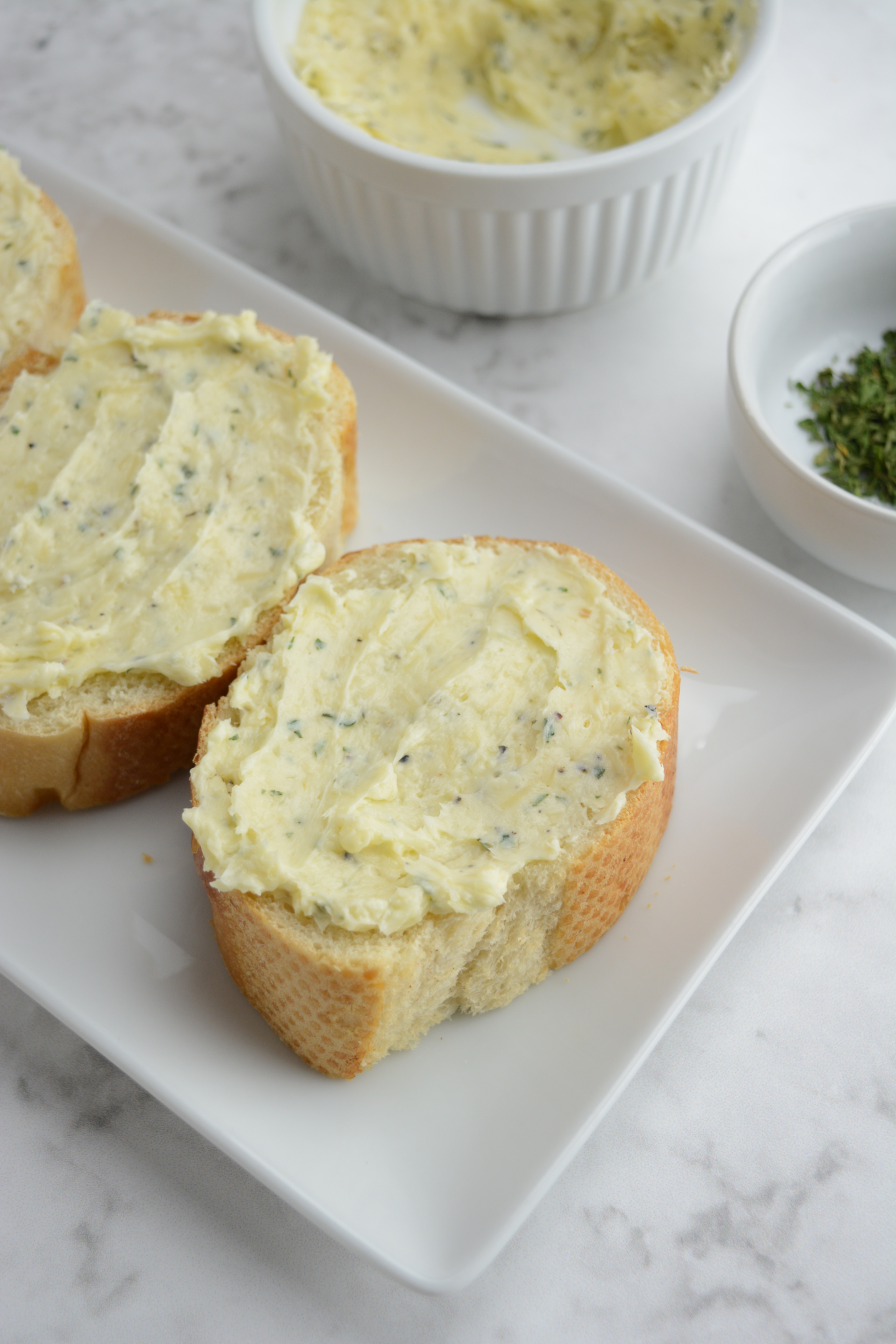 I used a few teaspoons each because these are big slices. Feel free to reduce that if you prefer a bit less or if your sliced bread pieces are smaller.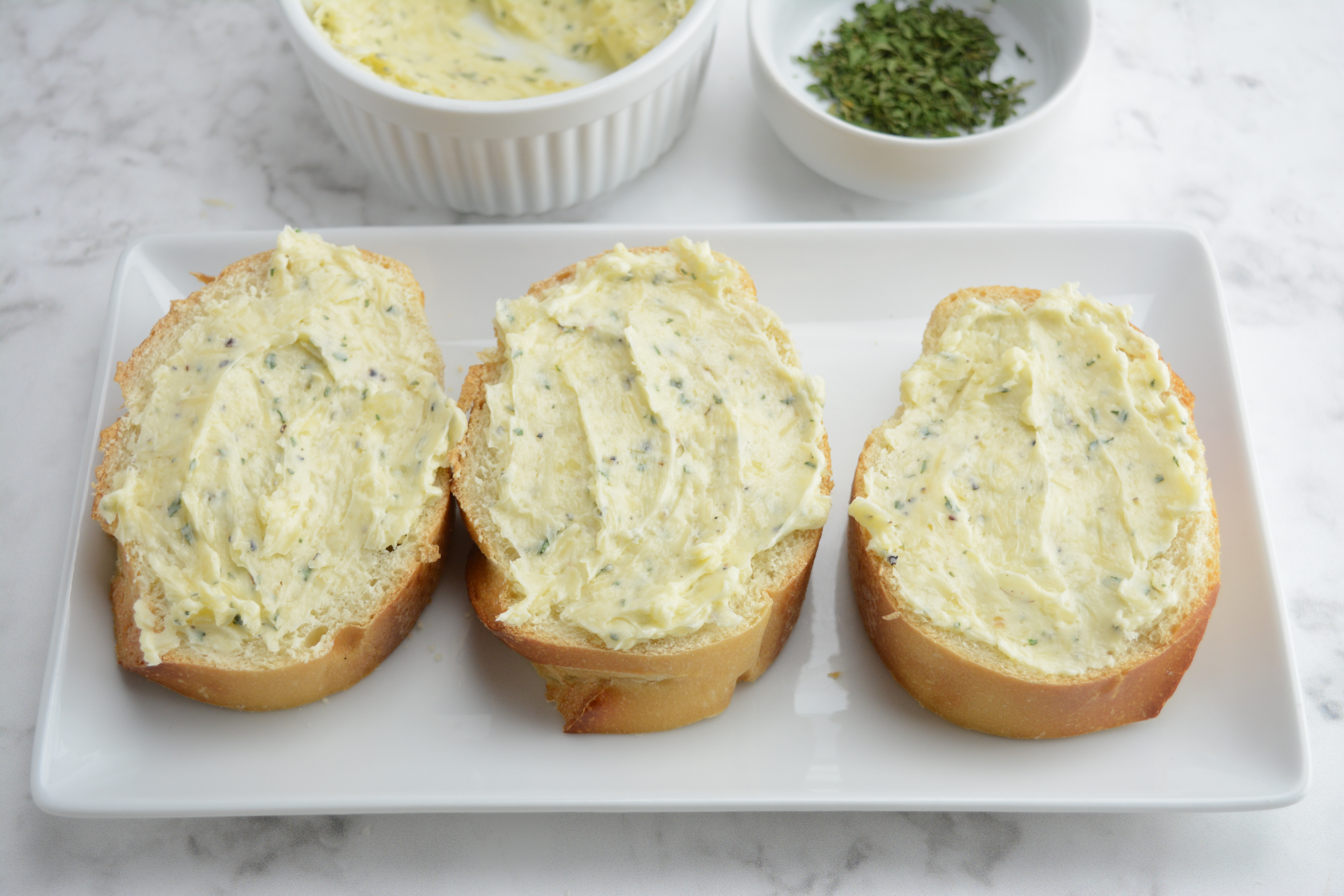 Step 6: Air fry the garlic bread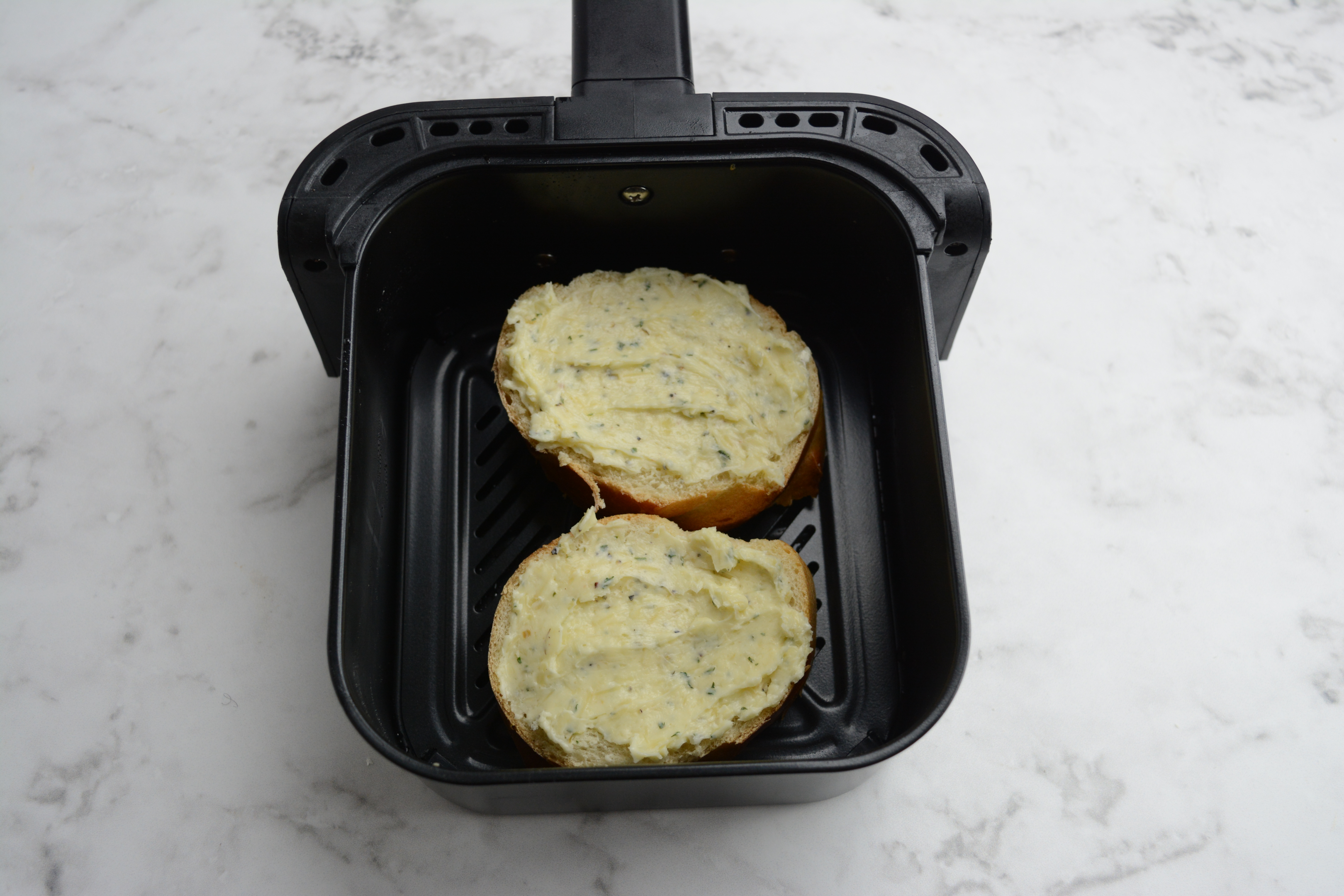 Place the slices into the air fryer, working in batches as needed. Some family sized air fryers or an air fryer oven may hold 4-6 slices, whereas smaller ones can probably fit about two slices into the air fryer basket at a time.
These cook up quickly though so multiple batches move along quickly.
I highly recommend preheating he air fryer for even cooking. You don't absolutely need to but it will speed things up.
Preheat to 350 degrees for 5-6 minutes until golden brown. If yours are cut less thick, start checking them at 3-4 minutes.
When done, garnish with a sprinkle of additional fresh parmesan and parsley.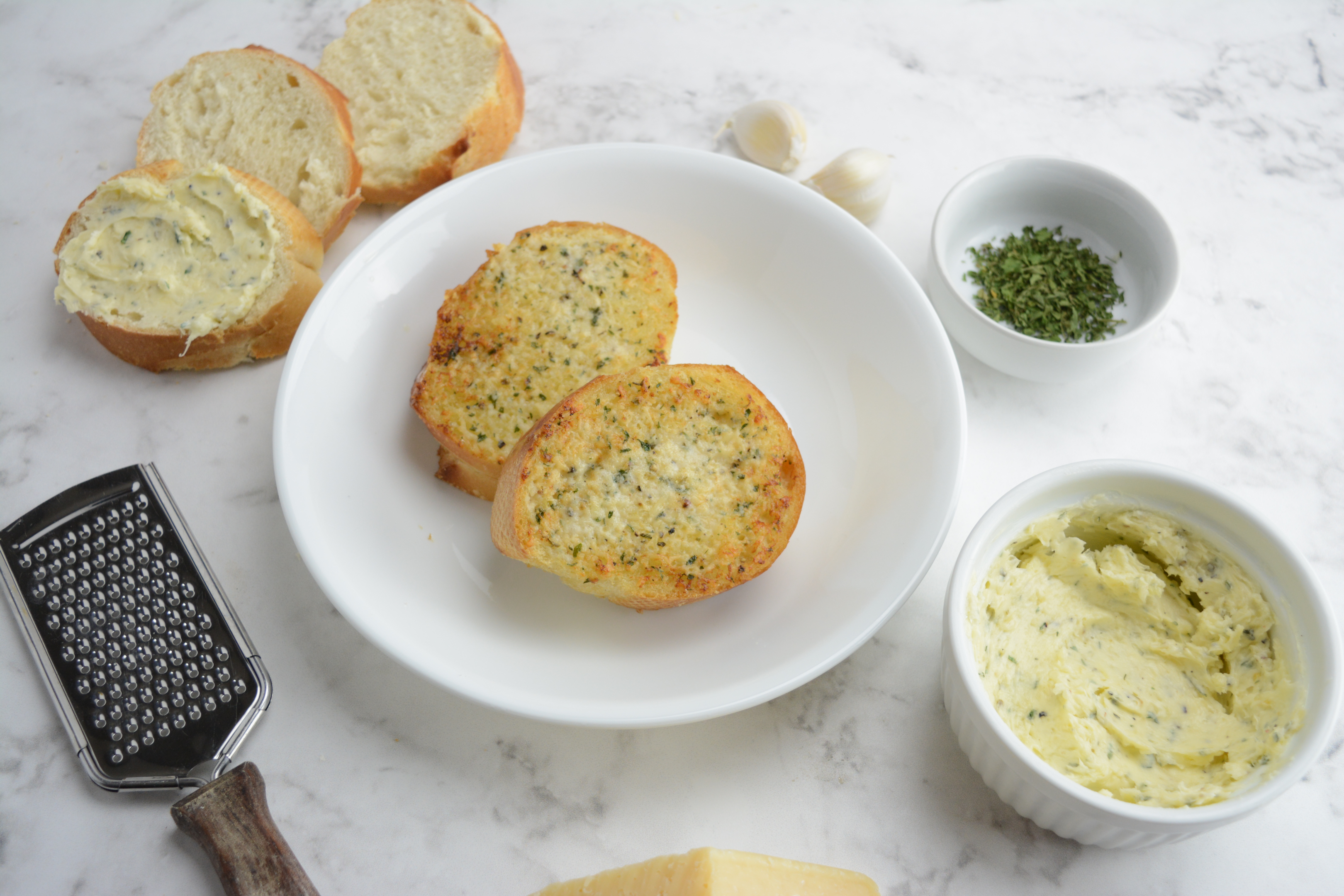 Air Fryer Garlic bread variations
Cheesy air fryer garlic bread
If you're a fan of cheesy garlic bread, add a layer of freshly shredded mozzarella to to top of your bread before adding it to the air fryer. I recommend using a fresh block because it melts the best. About 15-20 minutes before you plan to make your bread, pop the mozzarella cheese into the freezer for easy shredding.
Air fryer frozen garlic bread
If you're using premade garlic bread from the frozen section of the grocery store, you can cook that in the air fryer too! It may be tempting to turn up the temperature but cooking it at 350 will prevent it from burning on the top while it's still partially frozen.
To cook frozen garlic bread in the air fryer, cook for 6-8 minutes, keeping a close eye on it then add a few extra minutes if needed. This works for frozen cheese bread in the air fryer too.
Tips
Air fry in a single layer- Some foods such as fries cook well when layered but for this recipe be sure to only use a single layer of garlic bread. Otherwise it won't brown and will get messy.
Make a double batch and freeze- Instead of buying frozen garlic bread, it can be really cost effective to make your own. Next time you enjoy this garlic bread, simply make a double batch. Don't cook the batch that you're going to freeze. Place it in a single layer on a baking sheet and place it into the freezer for 1-2 hours. This will firm it up. You can then. transfer it to a freeze container or freezer ziplock bag. Just grab out a few when you need them!
Soften butter quickly- Softened butter is ideal for this because it mixes and spreads much easier. 30-60 minutes on the counter will make it perfectly soft, but if you're short on time, cut it into small cubes to speed up the process. I like to set it in a sunny spot, and it usually takes 10-15 minutes.
FAQ- Garlic Bread in the Air Fryer
How to store leftover garlic bread?
Store your leftover garlic bread in an airtight container in the refrigerator for 2-3 days.
How to reheat garlic bread?
To reheat it, preheat the air fryer to 300 degrees and place the leftover garlic bread into the air fryer basket for 2-3 minutes until warm.
How to clean the air fryer basket?
It's always important to keep your air fryer basket clean. If you're new to air frying, after each use, you can remove your basket for a quick cleaning. Be sure to refer to the manual for detailed instructions.
To clean the air fryer basket, simply wipe the grease away with a paper towel. You can then use warm soapy water to wash the basket. I really like Dawn Spray for this. Once the air fryer is clean then hand dry it before placing it back into the air fryer. Easy!
How to prevent soggy garlic bread?
To prevent soggy slices, you'll want to place it on a cooling rack right after it comes out of the air fryer. This will allow steam to dissipate and not get trapped underneath, causing a soggy bottom.
Are air fryers worth buying?
Absolutely! Of course, there are always those who disagree. For my day-to-day cooking, I find it immensely helpful. One of the biggest reasons is that it preheats so much faster than my oven. My food can be in the air fryer and baking while the oven would still preheating.
It's also especially great for smaller batches or side dishes. Things like garlic bread don't need an entire oven for a few slices. I also find that it gets fries and chicken tenders much more crispy than the oven and in less time. It can vary on the model, but it's around 10-15 minutes faster for me in the air fryer, which is pretty valuable on busy weeknights.
How to cook frozen garlic bread?
To cook frozen bread in the air fryer, it just requires a few extra minutes. To cook garlic bread in the air fryer be sure to check the package for instructions.
If there are none specific to air frying, cook the frozen garlic bread in the air fryer heated to 350 degrees for 6-8 minutes until golden brown. If you like it extra golden, keep an eye on it and add another 1-2 minutes depending on thickness.
More air fryer recipes:
Air Fryer Garlic Bread
Yield:
8 slices, 1 per serving
Air fryer garlic bread is crunchy, buttery and so delicious! All you need is a loaf of your favorite bread to get started with this easy side dish!
Ingredients
1 loaf French bread, sliced into 1-inch thick slices
1/2 cup of salted butter, softened
2-3 cloves garlic, mashed or finely minced
1/2 cup freshly grated parmesan cheese
2 teaspoons Italian blend seasoning
dried parsley, for garnish (optional)
Instructions
Preheat the air fryer to 350 degrees.
Slice the bread into 1-inch thick slices, or smaller if you prefer crunchier pieces.
In a small bowl, mix together the butter, garlic, parmesan cheese and italian seasoning until well combined and fluffy.
Spread 2-3 teaspoons of the mixture onto each slice of bread.
Working in batches as needed, place the buttered bread slices into the air fryer basket.
Air fry the garlic bread for 5 minutes until golden brown. Keep a close eye on it as some air fryers have variable fan strengths and can cook faster or slower.
When done, the garlic bread should be browned on the top, the cheese melted and have crispy edges.
Let cool for 3-5 minutes before serving warm.
Garnish with parsley for color, if desired.
Notes
1/2 cup of butter = 1 stick or 8 tablespoons
Nutrition Information:
Yield:

8
Serving Size:

1
Amount Per Serving:
Calories:

290
Total Fat:

15g
Saturated Fat:

9g
Trans Fat:

1g
Unsaturated Fat:

5g
Cholesterol:

36mg
Sodium:

938mg
Carbohydrates:

32g
Fiber:

1g
Sugar:

3g
Protein:

8g
Any Nutritional Information provided is an amateur estimate. Please verify with your own brands and ingredients if nutrition is important to you.